How to Use the DSP Portal: Faculty & Proxy
Image


Upon logging in you will be greeted with a screen displaying several tabs: Home, Instructor Letters, Exam Accommodations, Manage Course Contacts, and Logout.
 
Image

2. Instructor Letters
Click on the tab marked Instructor Letters. This page contains a list of instructor letters submitted by all DSP Students who are enrolled in courses you are teaching for the current quarter.
 
Image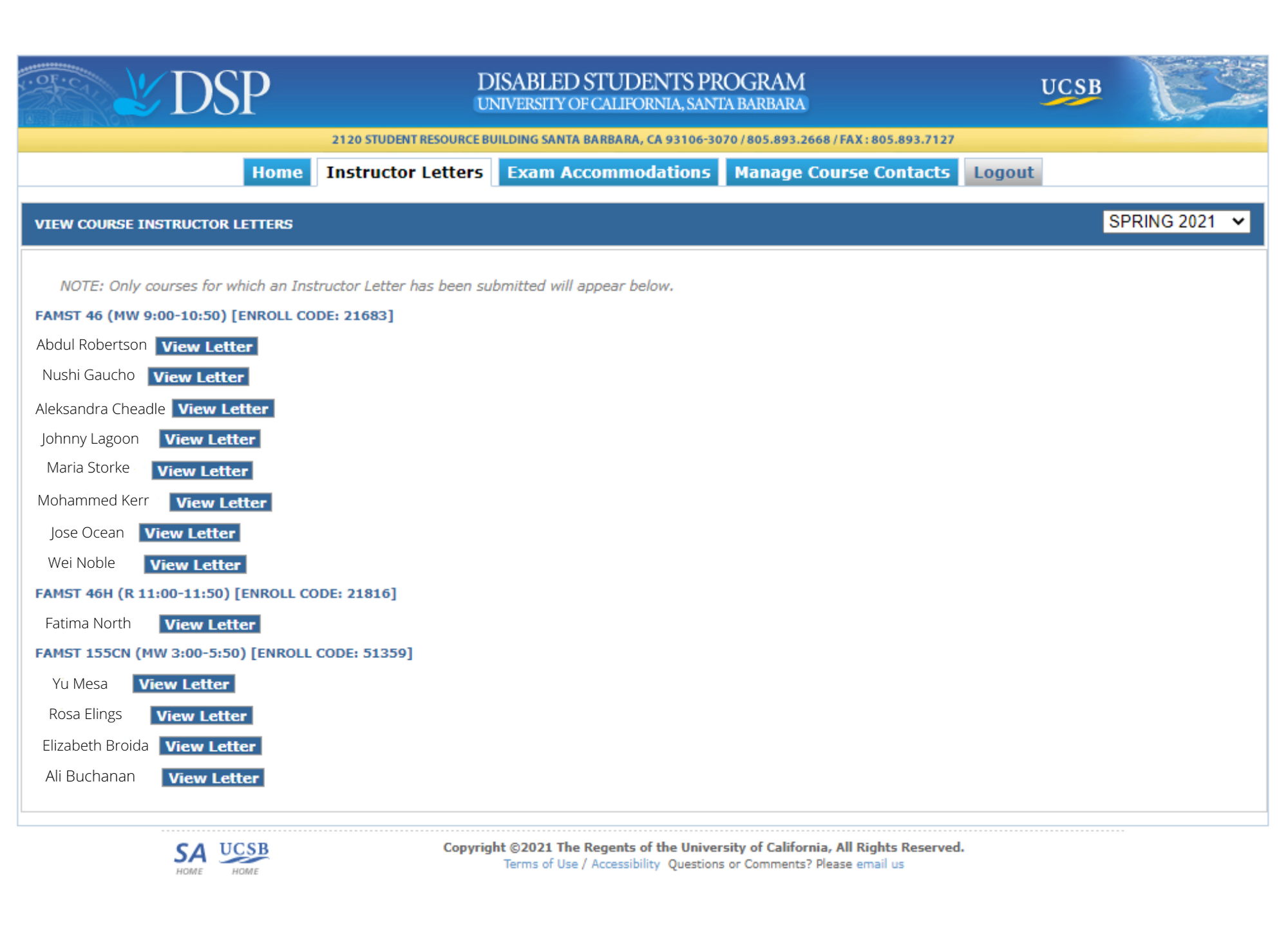 In order to view the full text of any letter, simply click on the button marked View Letter and the full text of the letter from DSP will appear.
The text of the letter will provide you with the full name of the student, their email address, and their phone number. It will also explain your responsibility to provide the exam accommodations requested under the Americans with Disabilities Act. A list of services for which the student is approved will also be displayed. Please note that some of these services may not pertain to the type of exam you are administering (for example, while a student may qualify for extended time for essay exams, this may not be an appropriate accommodation for a math course). Only you, the instructor, know beforehand the type of exam you will administer for your course; we provide you with as much information as possible so that you can be prepared to schedule the student's exam in RegisterBlast (further information below).
The letter may be printed by clicking on the print icon in the upper right-hand corner, which will format the letter for printing.
To return to the list of Instructor Letters, simply click on the Back button at the bottom of the letter.
 
Example of an Instructor Letter:
 
Image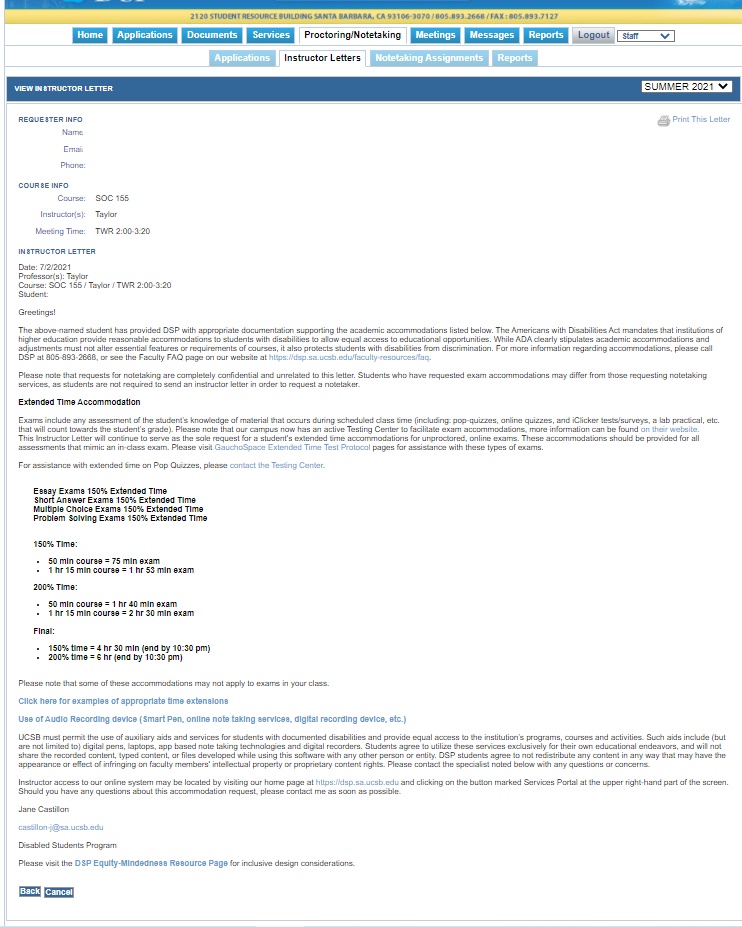 3. Providing Exam Accommodations
Once a student has submitted an Instructor Letter, your next steps depend on whether the exam is being proctored and/or taking place remotely.
Remote Exam, No Proctor
If the exam is taking place remotely and a proctor is NOT required, please provide exam accommodations based on the Instructor Letter alone. For example, if two students have sent you Instructor Letters and one receives 150% time while the other receives 200% time, please extend their time in GauchoSpace (or whichever online platform you are using to administer the exam) accordingly. You will NOT need to create an exam in RegisterBlast for these exams, as no alternate location or proctor will need to be coordinated.
Proctored Exams (In-Person or Remote)
All proctored exams, for the duration of the quarter, will need to be scheduled in advance through RegisterBlast.
What is RegisterBlast?: https://testingcenter.ucsb.edu/registerblast-launch
How to schedule an exam through RegisterBlast: https://testingcenter.ucsb.edu/faculty-resources
How to link your course page in GauchoSpace to RegisterBlast for easy student access to the exams you have scheduled: https://help.lsit.ucsb.edu/hc/en-us/articles/4402351610523-RegisterBlast
Manage Course Contacts
If you would like your TAs to schedule exams in RegisterBlast on your behalf, you will need to first designate them as a course contact so that they can view and receive Instructor Letters from our system.
Click on the Manage Course Contacts tab and then click on the appropriate course for which you would like to add a course contact.
Image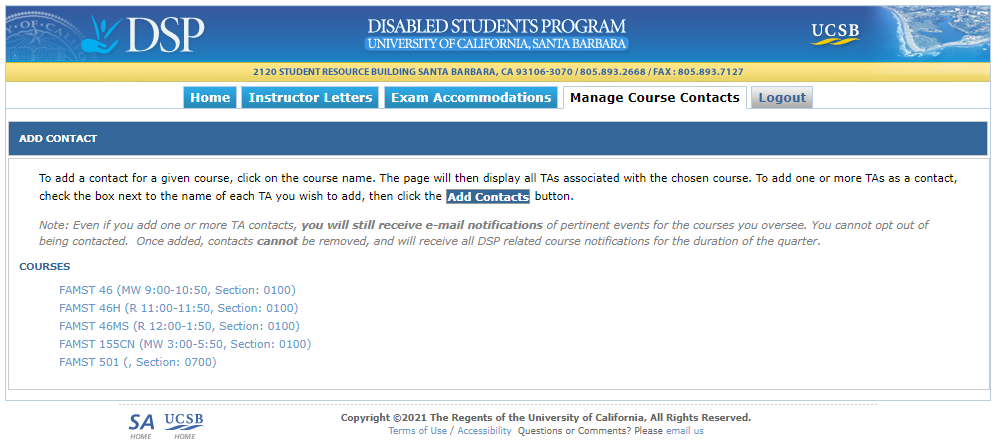 A list of your current TAs will be displayed and you may select one or more to whom you wish to give permission.
Image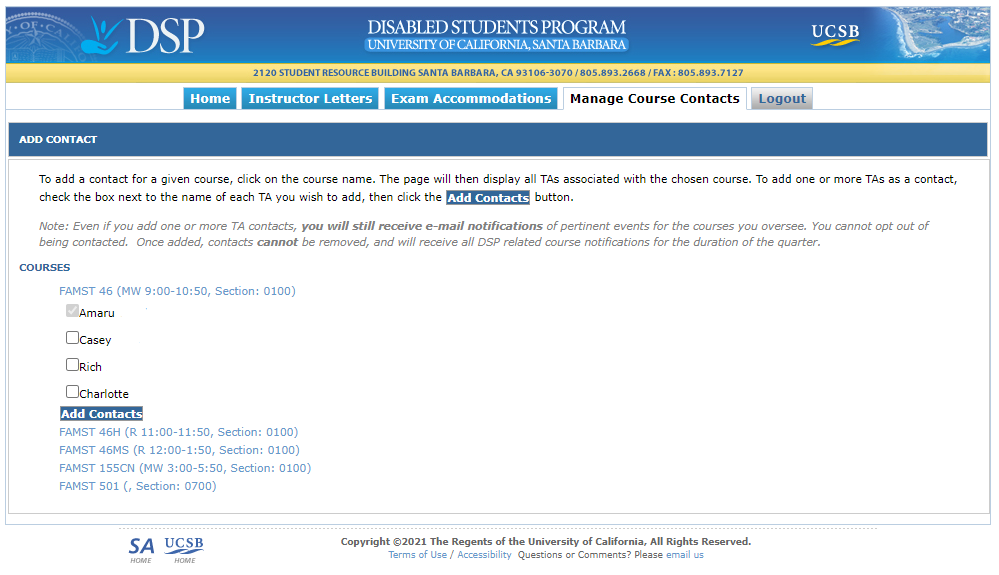 Please note that the DSP system can ONLY display teaching assistants who have been associated with your course in the STAR/COMPLETE system (aka the mainframe). Please contact your department's undergraduate advisor if you do not see your TA available as an alternate contact.