Campus Resource Fair!
Come learn about various FREE resources available to you, including...
Disabled Students Program (DSP)
Education Abroad Program (EAP)
Resource Center for Sexual & Gender Diversity (RCSGD)
Wednesday, November 10th
2 PM - 4 PM
Santa Catalina South Lawn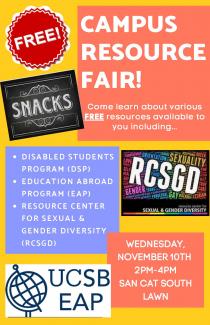 Image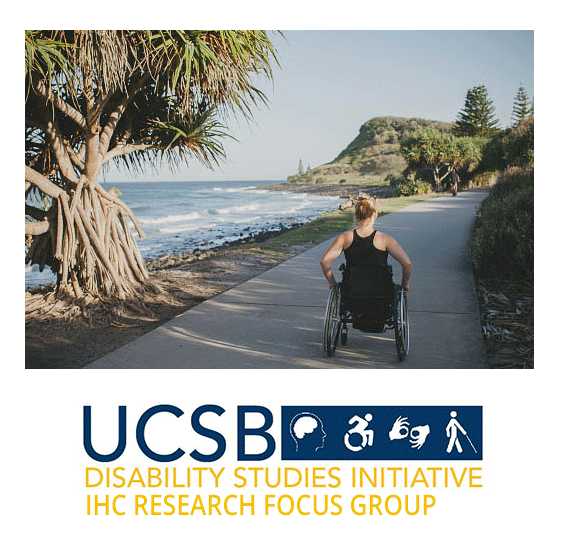 RESEARCH FOCUS GROUP WORKSHOP: WHY DIFFERENT MODELS OF DISABILITY?
November 15, 2021 @ 4:00 pm - 5:00 pm
Rachel Lambert (Assistant Professor in Special Education and Mathematics Education, Gevirtz Graduate School of Education, UC Santa Barbara) will offer a workshop on the different models of disability, including medical, social, political/ relational and complex embodiment. Lambert's scholarly work investigates the intersections between Disability Studies in Education and mathematics education. She has conducted longitudinal studies of how Latinx students with learning disabilities construct identities as mathematics learners, and how mathematical pedagogy shapes how teachers perceive students as disabled.
Zoom attendance link: https://ucsb.zoom.us/j/84716751476?pwd=d3JPWlN0eVFoVlBYeHFtSU1OdGJ6QT09
Co-sponsored by the IHC Disability Studies Initiative Research Focus Group, CODE, the Associated Students Commission on Disability Equality, , the UCSB Comparative Literature Program, and the Disabled Students Program.
Queer Trans Identities and Experiences Seminars (QTies)
The RCSGD is facilitating two Queer Trans Identities and Experiences Seminars (QTies) this Fall! We were hoping that you would be able to disseminate this information among USS through email and on your social media. We would also love to see you all attend!
Come learn how to create an inclusive and welcoming environment for the LGBTQIA+ campus community. These seminars are an introduction to LGBTQIA+ terminology, pronouns, and LGBTQIA+ resources. You are encouraged to attend both the Queer & Trans 101 and the Trans 101 seminars. Open to staff, faculty, and graduate students! 
Queer & Trans 101
1.  Monday, October 25th from 3:00 - 5:00 PM (Pacific)

Trans 101
1. Wednesday, November 17th from 3:00-5:00 PM (Pacific)
Registration is available on Shoreline, the Zoom link will be provided upon RSVP. Please see the flyer for each individual event's QR Codes.
Image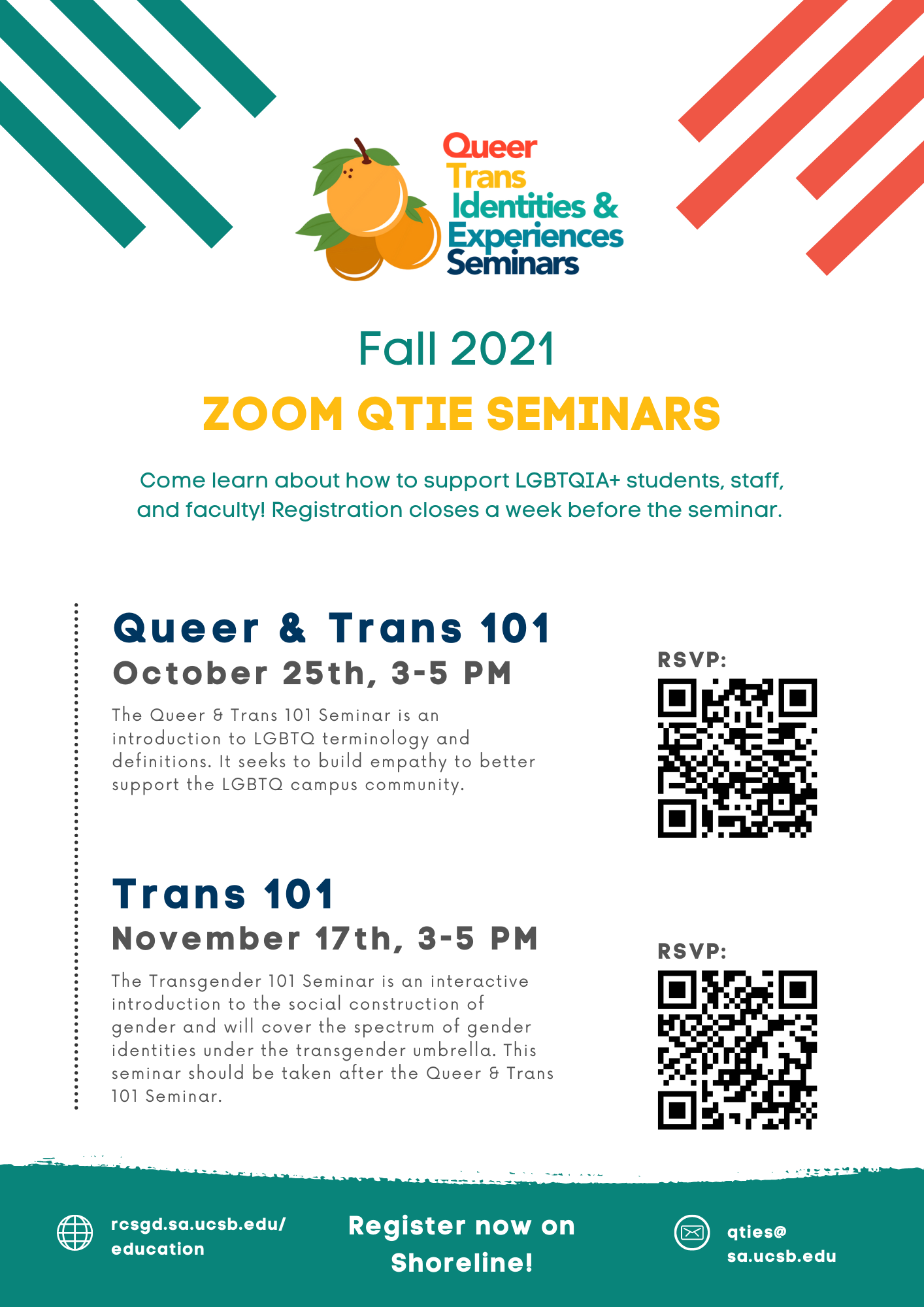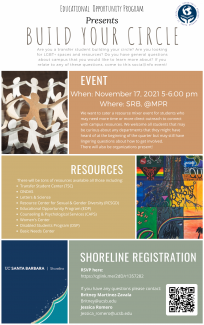 Educational Opportunity Program presents Build Your Circle
Are you a transfer student building your circle? Are you looking for LGBT+ spaces and resources? Do you have general questions about campus that you would like to learn more about? If you relate to any of these questions, come to this social/info event!
Event
When: November 17, 2021 5 pm - 6 pm (PDT)
Where: SRB Multi-purpose Room
We want to cater a resource mixer event for students who may need more time or more direct outreach to connect with campus resources. We welcome all students that may be curious about any departments that they might have heard of at the beginning of the quarter but may still have lingering questions about how to get involved. There will also be organizations present!
Resources
There will be tons of resources available, including:
Transfer Student Center (TSC)
ONDAS
Letters & Science
Resource Center Sexual & Gender Diversity (RCSGD)
Educational Opportunity Program (EOP)
Counseling & Psychological Services (CAPS)
Women's Center
Disabled Students Program (DSP)
Basic Needs Center
Shoreline Registration
RSVP here: https://cglink.me/2dD/r1357282
If you have any questions, please contact:
Britney Martinez-Zavala
Jessica Romero
Image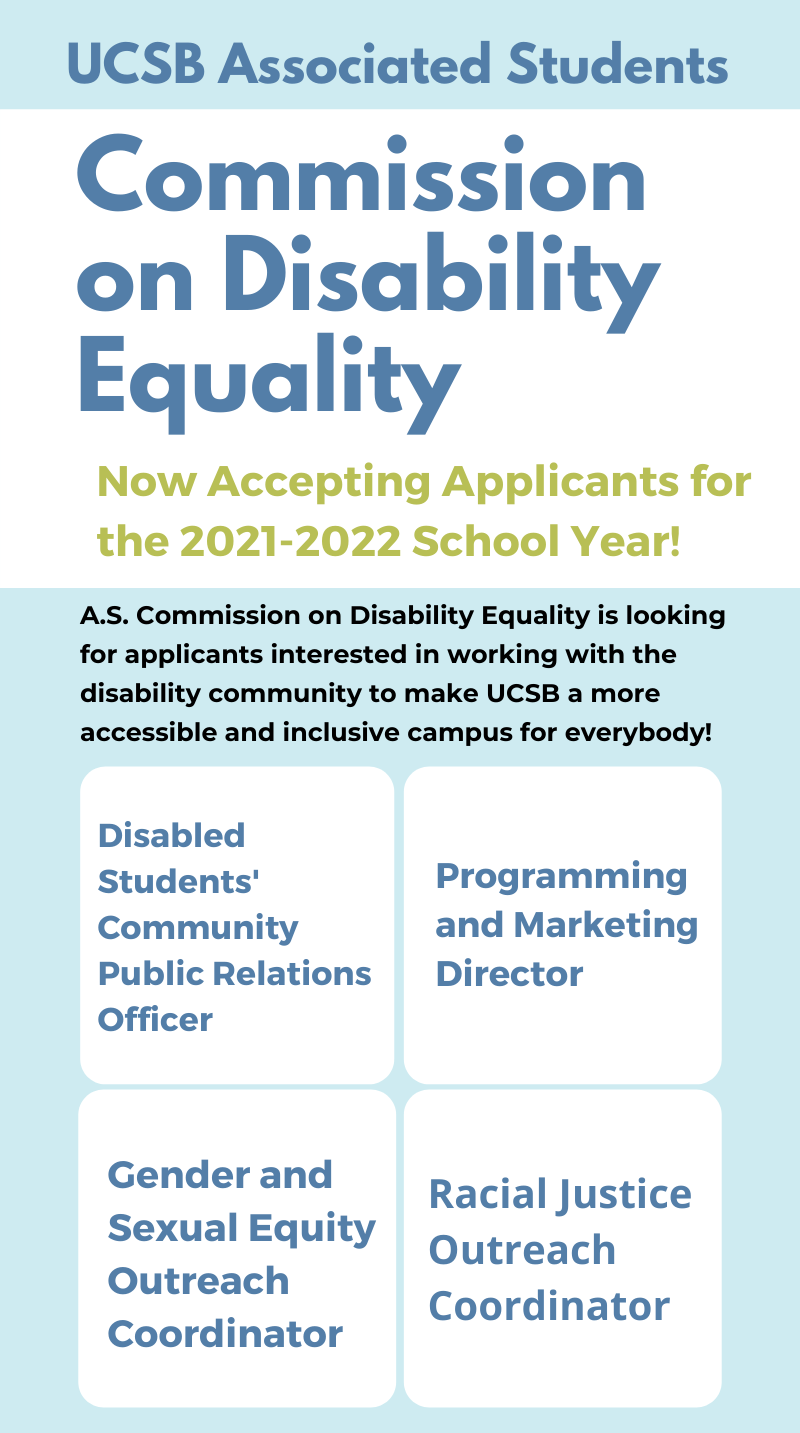 Commission on Disability Equality: Now Accepting Applicants for the 2021-2022 School Year!
CODE has redesigned our Commission because we hope to transform the status of the disability community. Our vision for a more inclusive campus requires us to reframe disability as a condition of society with barriers to accessibility that affect Everyone—across different communities, and regardless of whether they are disabled or not. 
If you are interested in getting involved in our mission to make UCSB a more accessible and inclusive campus for everybody, please consider applying! We are still accepting applications and positions will remain open until filled, so please use this form to indicate your interest in getting involved with CODE.
Questions? You can reach us at code@as.ucsb.edu.
Image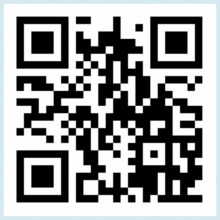 Disabled Profiles in STEM
The UC System Ad-Hoc Committee: Accessibility in STEM are looking for passionate STEM students, faculty, alum, etc. affiliated with the University of California to share their stories about navigating the world of STEM with a disability. Profiles will be featured on a public website and shared on various social media platforms. Submissions can be anonymous.
Click here to fill our our Interest Form. 
Email ucdisabilityadhoc@gmail.com (with "Accessibility in STEM" in the title) with any questions or concerns.
Image