Reading Services and Adaptive Technology
Reading services are provided to students with permanent or temporary disabilities who provide appropriate documentation and meet the eligibility requirements. You will first need to meet with your specialist who will determine what types of reading services would be most helpful to you. DSP offers adaptive technology such as Capti, e-texts, and more to eligible students.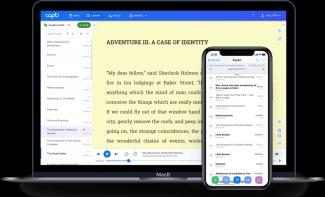 Requesting access to Capti
Once approved for alternate reading formats, request access to Capti by emailing the Adaptive Technology Specialist at sa-dspadaptivetech@ucsb.edu.
The student will be granted access to a license and sent links to video tutorials. In-person or Zoom trainings with DSP's Adaptive Technology Specialist are available upon request.
Requesting access to e-texts:
Submit a request for electronic texts from DSP by completing the DSP Alternate Text Request Form (the link to this Google form is available in the E-text Service Agreement within the DSP Portal)
Be sure to submit this form as soon as possible. If you don't have a list of books for your courses yet, you can get the required information from the UCSB Bookstore online
The Alternative Text Assistant will contact you when these texts become available. If e-texts are not available, they will contact you to see if you are agreeable to breaking the spine of your physical book so an e-text can be produced from it.
If you DO NOT want to use Capti:
If you feel that the text-to-speech software is not helpful, see your Disabilities Specialist about using Learning Ally's resources.
Before making the appointment, check to see if Learning Ally (learningally.org) has the books you need.
During your meeting, your Disabilities Specialist will have you complete a release form and an application which DSP will fax directly to Learning Ally.
After DSP has faxed your application to Learning Ally, you correspond directly with Learning Ally regarding any resources you might need from them.