Associated Students Transportation Reimbursement Program
Associated Students has made funding available for a pilot transportation program. Renewal of this program is on a quarter-by-quarter basis and the program is subject to change or termination at any time as this program is not considered a legal mandate under ADA.
Application for injury-related transportation reimbursement may be initiated by completing an online application. Instructions can be found at Using the DSP Portal.
Once you have uploaded documentation of your injury, it will be evaluated and you will be contacted with a registration status update. The transportation reimbursement program is a campus service and reimbursement will begin on the date of the initial injury.
Reimbursement will be provided for Uber and Lyft rides under the following conditions:
You will be reimbursed for academic and treatment-related travel expenses using a transportation service (Lyft, Uber, etc.). Associated Students will reimburse use of service to and from class, medical appointments, and physical therapy appointments within the Isla Vista/Goleta/Santa Barbara area.
 To download an Associated Students Requisition (Reimbursement) Form, click here:
---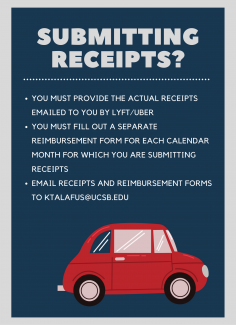 ***Please provide full receipts, either copied from emails sent to you or downloaded from the rideshare app. Receipts must include dates, times, and an origin and destination address. Maps should be included in case the app provides a random/nondescript address for a campus location (see FAQ #3 below). If the information provided to DSP is not enough to determine if trips are eligible for reimbursement, you will be asked to submit new receipts with full information, which may prevent your reimbursement from processing in a timely manner.