Image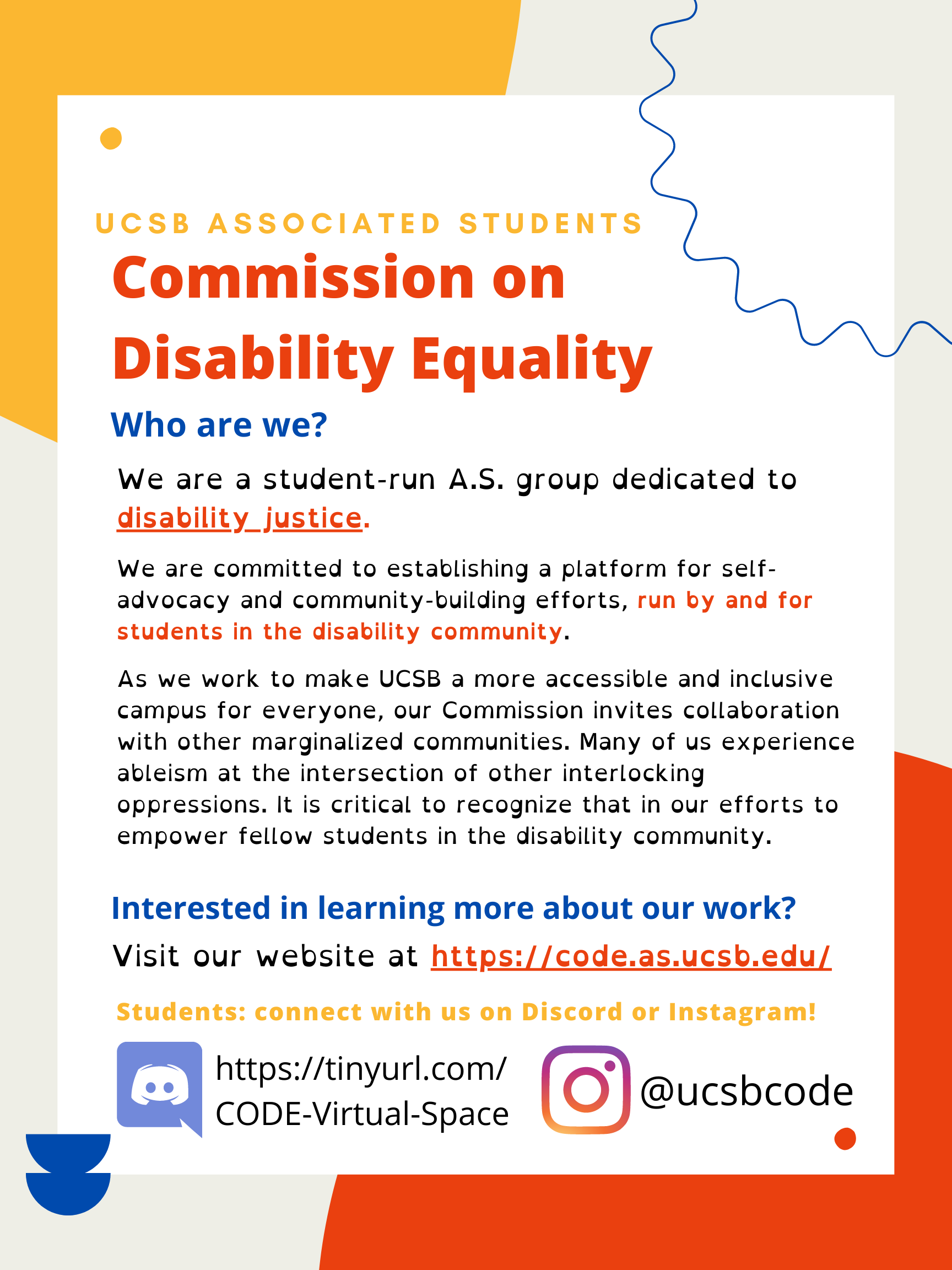 The Commission on Disability Equality (CODE) at the University of California at Santa Barbara is proud to serve as the liaison for the UCSB campus community. CODE promotes increased awareness of disabilities, strategies for personal empowerment, a social atmosphere for networking and a venue for addressing access issues. If you are interested in getting involved, Commission on Disability Equality are currently looking for General Interest Members. Please email them at code@as.ucsb.edu. You may also visit a CODE Officer during our office hours.
Interested in becoming a member of our Executive Board? Use this form to apply! We are looking for students who are passionate about working with the disability community to make UCSB a more accessible and inclusive campus for everybody. Applications will close on October 25th, 2021. Interviews will be scheduled on a rolling basis.
To learn more, or to be added to our contact list, feel free to reach out to the Internal Affairs Chair, Marvia (she/they), at as-codecomm1@ucsb.edu, or the External Affairs Chair, Sophia (she/her), at as-codecomm2@ucsb.edu. Also consider joining our Discord channel, the primary source for CODE event notifications as we work to update our website.
Help spread the word about CODE! You can download a PDF of our flyer below.
.
---
Alt text for CODE flyer: Flyer with red, yellow, and blue accents in the background. At the top, "UCSB Associated Students" is in small yellow text, and below this are the words "Commission on Disability Equality" in red text. The first header in blue text reads, "Who are we?" Underneath this, the first line of text reads, "We are a student-run A.S. group dedicated to disability justice." The words "disability justice" are in bold and underlined. In smaller text are the words: "We are committed to establishing a platform for self-advocacy and community-building efforts," and in bold, continues, "run by and for students in the disability community." The next paragraph reads, "As we work to make UCSB a more accessible and inclusive campus for everyone, our Commission invites collaboration with other marginalized communities. Many of us experience ableism at the intersection of other interlocking oppressions. It is critical to recognize that in our efforts empower fellow students in the disability community." The second header is in blue text, and has the words, "Interested in learning more about our work?" In black and red text are the words, "Visit our website at https://code.as.ucsb.edu/ " Finally, in yellow text reads, "Students: connect with us on Discord or Instagram!" Next to the Discord logo image is the link, https://tinyurl.com/CODE-Virtual-Space, and next to the Instagram logo image is the Instagram handle, @ucsbcode.
---